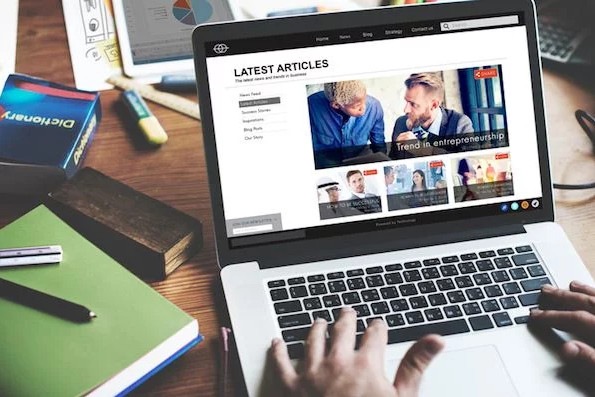 Blogging and SEO go parallelly and it is not easy to maintain them. Most of the bloggers fail only because they fail to keep their SEO grinding with content. This is the biggest reason they end up getting less traffic, no ad clicks, fewer page views, and other problems. Yes, we get it that it is not easy to maintain it but doing some of the basic things might maintain your SEO score. Here are some of the basic ways which can help you to rank your blog high and make your content SEO-friendly:
Content is king
If you want to rank your website or blog, then you must be regular in providing content and good content. Use keywords up to 2.5 percent and it must catch readers' attention. People who are willing to read will come and read. And, if they find it not interesting, they will never come back and bounce rate will get high. So, go for a knowledgeful content which suffices customers' brain with good knowledge.
Use catchy and compact titles
Don't go for long titles crossing 10 words or so! Go for compact titles or keywords having a long tail as people love to read those blogs. Blogs like "10 best footballers in the world" or "10 best places in Barcelona", these titles will bring more readers to you. Also, don't give boring titles to your blog. This will not entertain the audience from the very first go. Instead, go for catchy and creative titles plus don't forget to add the keyword in the title too. In addition to this if you are looking for digital marketing job then it could be best chance to try it.
The website must load faster
After smartphones and tablets evaluation, people want to get things done faster than lightning. And, the same goes for the websites! Customers want the websites to load faster and they can see the content in a faster and no-nonsense way. So, imagine if you are having loads of nonsense ads popping up in your content which irritate users. Why would he come back? Yes, ads are important for monetizing but they reduce website speed too. Also, get rid of unnecessary CSS and Javascript codes to make your website load faster.
Go for AMP versions
Trust me on this, AMP versions of the website are something Google will count in the near future. Yes, Google considers it now also but in the future, the focus will be more on it. AMP or Accelerated Mobile Pages load websites faster in mobiles with a simple layout and no unnecessary ads, CSS or Javascript codes. A reader gets to read content without any glitters or catchy design layouts of the website.
Make it secure with HTTPS
Yes, Google check for the fact that your website is secure or not. If your website is having an SSL certificate, it means it is secure i.e. having HTTPS. If not, then you might struggle to get on top on various keywords. Google prefers to go for websites which are secure. Secure websites mean that they will provide better experience and data won't get leaked. Also, websites without SSL have chances to get hacked. So, you can see the risk of having an HTTP website and the benefits of having a website with HTTPS.
Alt tags are necessary
Give "Alt Tags" to all of the images you use in your blog. Stay with me on this, Google read alt tags too. When a user enters a query, Google tends to compare the query with your alt tags too and then show the results. Imagine if someone wrote "XYZ" in the Google Search Bar and no one has written an article on that except 4-5 websites. If you are using alt tags having the same "XYZ" in it, then you have the best chance to get the top ranking. So, don't take it for granted that alt tags are useless. No, they are not period!
Internal Linking of articles
Articles must stick around each other if they are correlated. Imagine you write one article on "Amazon sales" and the next article is how you can use "Amazon Coupons". Then, the best case is to interlink them. The best way is to do it is by using anchor tags. You can leave the link of the related article and if a user comes and see one article, he might also see the related link and might jump to the second link too. This also helps in reducing the bounce rate and you get more views.
Get backlinks
It is the biggest factor in improving your blog rank. Get backlinks from high domain authority websites! This will help you a lot- not only in gaining traffic but also in increasing your website's domain authority. If you get 10 backlinks from the quality website (having a good amount of traffic), you will see a traffic bump in your website too. This means you will get more visitors and you can earn their trust with your content. This is the best way to entertain users and keep them glued with your content.
Tags:
8 ways to rank your blog
,
digital marketing job